Calendar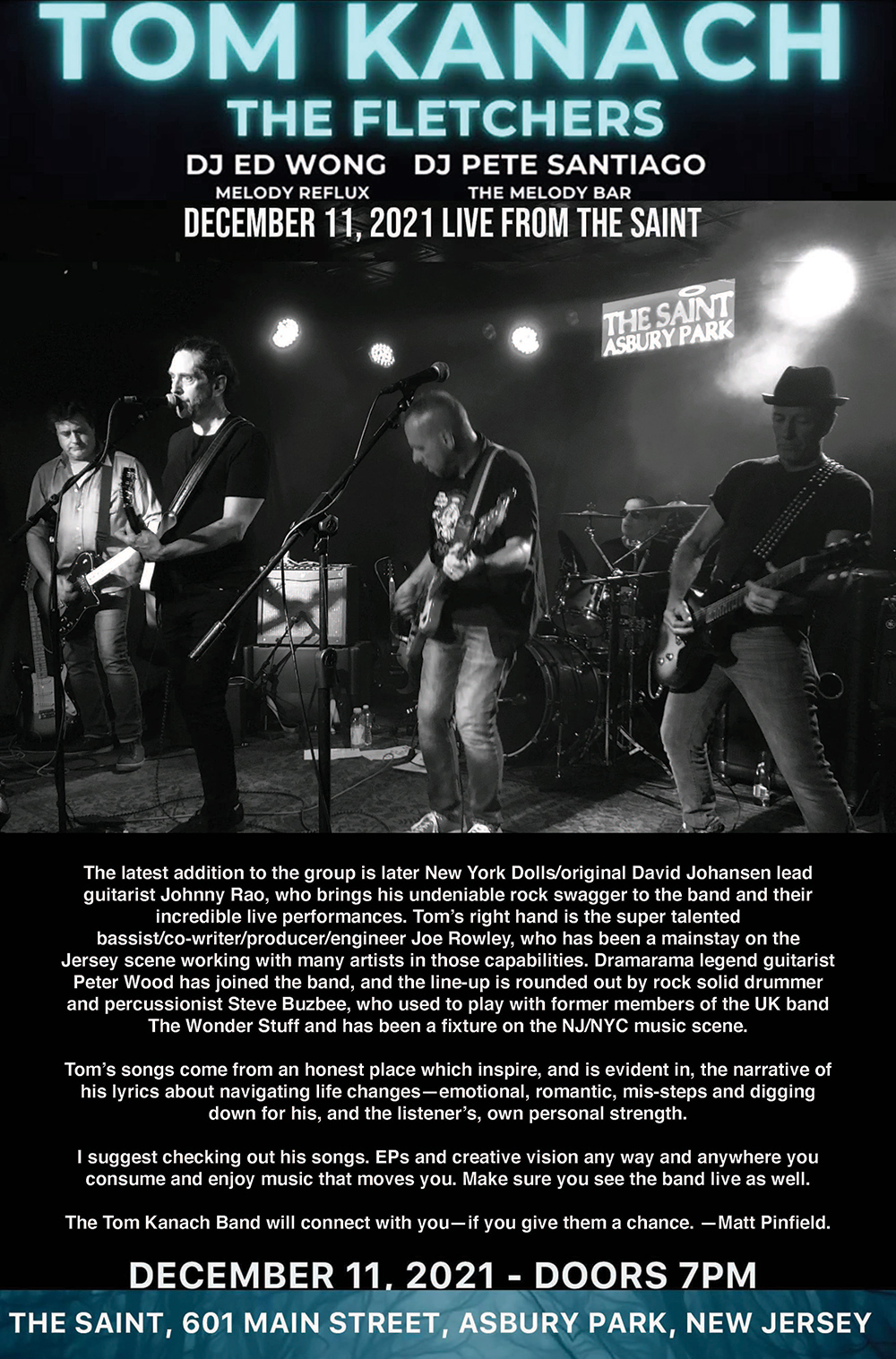 Saturday, December 11, 2021
Doors 7:00pm, $10
Live from The Saint feat. the TOM KANACH (pronounced Kay-nack) BAND with THE FLETCHERS, DJ ED WONG (Melody Reflux) and DJ PETE SANTIAGO (The Melody Bar).
"NEW JERSEY has always been a hotbed for some of the greatest musical talent that this country has to offer. From the Four Seasons to Springsteen to My Chemical Romance, Some of the greatest rock and roll of all time was born in the Garden State.
"This brings me to one of my favorite new bands from my old stomping grounds, the Tom Kanach Band. I knew Tom's talent from one of his first bands that I supported. Well Of Souls, who were a power fixture on the Jersey Shore. But it is his new band that has gotten me excited about the Jersey scene once again.
"Tom's love for all things music led to early brushes with greatness on the international punk scene where he forged lasting friendships with the legendary Stiv Bators of the Dead Boys and Brian Jones and the Damned and Lords of The New Church. Those early long term relationships connect the dots to Tom's current band as the great guitarist from Dramarama. Peter Wood is now in both bands.
"Speaking of East Coast legends, the latest addition to the group is later New York Dolls/original David Johansen lead guitarist Johnny Rao, who brings his undeniable rock swagger to the band & their incredible live performances. Tom's right hand is the super talented bassist/co-writer/producer/engineer Joe Rowley, who has been a mainstay on the Jersey scene working with many artists in all those capacities. The line-up is rounded out by rock solid drummer and percussionist Steve Buzbee, who used to play with former members of UK band The Wonder Stuff and has been a fixture on the NJ/NYC music scene.
"Tom's songs come from an honest place which inspires and is evident in the narrative of his lyrics about navigating life changes - emotional, romantic, missteps and digging down for his, and the listener's own personal strength.
"I suggest checking out his songs. EPs and creative vision anyway and anywhere you consume & enjoy music that moves you. And make sure to see the band live as well. The Tom Kanach Band will connect with ou, if you give them the chance."
- Matt Pinfield